Description
The Practice Exam questions are divided into 2 separate exams to simulate the actual test. To get the most benefit from the Exam, the following schedule is highly recommended:
8:00 am: Start the AM portion of the exam
8:00 am – 12:00 pm: Work the 40 "AM" questions
12:00 pm – 1:00 pm: Lunch break
1:00 pm – 5:00 pm: Work the 40 "PM" questions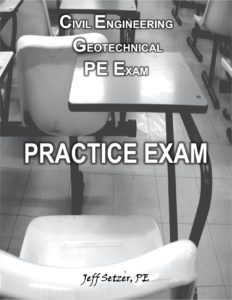 This method will give you a realistic "feel" for the amount of time you have to answer questions and utilize your resources. Using the Practice Exam will sharpen your skills and increase your odds for success.
Remember, this is a process. If you will spend time every day, work the problems, and assemble the resources, … you will be successful.
If there is anything I can do for you, please do not hesitate to ask.
To Your Success …
Jeff Setzer, PE



Civil Engineering Geotechnical PE Practice Exam